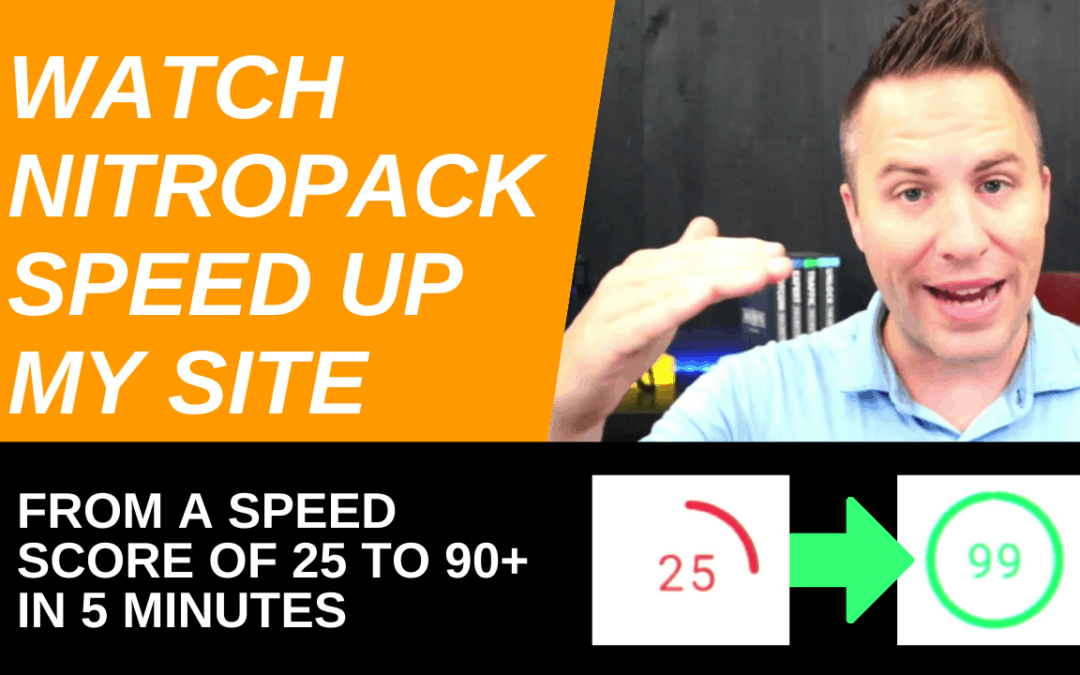 I am going to be reviewing the NitroPack plugin and its impact on WordPress. Now, when I say impact, I'm meaning its effects on speed. I decided to do a test to see if it would speed up one of my websites. Now, I actually have already used this plugin on multiple websites of mine, and it's done a great job speeding them up. However, this specific site I am testing out will be a true testament to this plugin because it has more content, and most of all, more images.
Let's start by diving into what NitroPack is and does. This plugin is a one-stop shop for performance enhancement. It has everything you'll need to run and maintain a super-fast website. NitroPack provides it all: image optimization, caching, CDN, and lazy loading. NitroPack also optimizes everything in the cloud.
Nitropack
According to NitroPack, users get a 69% PageSpeed score boost on average after installing. They guarantee that PageSpeed Insight scores will be 90+ for the desktop and 75+ for mobile. NitroPack also handles all aspects of picture optimization. If you're using NitroPack, you won't need any other plugins. NitroPack is compatible with all types of websites, regardless of their size. It's designed specifically for major e-commerce stores that bring in a lot of traffic.
It works on major hosting and page builders including:
CloudFlare
Varnish
Sucuri
WPEngine
SiteGround
Kinsta
Cloudways
GoDaddy
Elementor
The first version of the service was introduced in 2012, and then they established NitroPack as a separate company in 2018. Over 20,000 sites rely on NitroPack for fast load times and high PageSpeed scores as of the beginning of 2021.
NitroPack Features
The setup for this NitroPack plugin is quite straightforward. There are no technical requirements or a 10-step installation process. You don't need to be a developer to set it up, either. You can simply follow these 4 steps and you'll be ready to go in no time. NitroPack operates on copies of your site files, so there's no chance of destroying the original ones. You can also erase your cache and start over if you don't like the outcomes of an optimization. Even if you disable NitroPack, your site will revert to the state it was in before the plugin's activation.
Another fantastic feature of NitroPack is Cache Invalidation, which allows you to invalidate cache files rather than purge them. This allows the plugin to continue serving visitors from the cache, while a new copy of the cache is produced in the background. It also happens on its own. Most plugins that provide critical CSS capabilities prepare a single crucial CSS file per post type.NitroPack creates one-of-a-kind vital CSS for each layout. NitroPack additionally employs separate essential CSS for each device type because desktop and mobile devices have distinct viewports. Finally, it optimizes resources that are statically linked into your theme files – All resources associated with your theme, even those hardcoded into your CSS files, will be discovered and optimized by NitroPack.
The Speed Test
The site I am testing with this plugin has been a challenge for me in the past. I have exhausted multiple options to increase and maintain speed throughout the website. And yet, it still doesn't improve. So, we're going to run it through the PageSpeed Insights and see how fast it is. Now, I will say, many would consider website speed a deal-breaker, I don't know if I 100% agree with that statement. Some say without the proper speed, Google will rank the site lower. I'm not sure that I really believe that. I think that it may be a tie-breaking factor. But you know, there are hundreds of ranking factors, not just speed. However, I want people who visit my site to have a good experience. Therefore, I want it to go fast and have a good PageSpeed score.
As I said, I have installed this plugin on other sites, and it's done well, but those sites were already ranking high because they don't have a lot of content on them. I mean, they were built to be niche websites. So they're kind of lean, right? They also don't have a lot of heavy images, which makes a huge difference.
So, let's see if NitroPack will speed up my site that has been a challenge in the past. Let me just say, I do have a good number of plugins, which I don't necessarily recommend. Believe it or not, I've tried to trim it down, and I only have what I feel like I need remaining on the site. I did get the paid version of NitroPack because this website has enough page views that it was necessary. But I'm going to start with the lowest-paid version, which is recommended for 50,000 page views and 25 gigs of CDN space.
The Results
After running NitroPack, I have my final results and thoughts Before I give the results of the plugin, it's important for you to know the numbers I was getting before installing NitroPack. After running the numbers, I got a SpeedScore of 25 on mobile, which is actually lower than it normally is, and 86 on the desktop version. Now, after running the NitroPack plugin on the website, the mobile version jumped to 100. Is this too good to be true? I'm not going to lie, I had my doubts, especially after trying so many options to improve speed, but I'm impressed. Now, let's look at the desktop version. It's now at 99. I'm very impressed with those numbers, and to be honest, I was not expecting such an increase.
So, there you have it. Installing NitroPack is a great investment, and it actually works. There are different pricing plans you can choose when deciding whether you want to install the plugin. They offer both monthly and yearly plans.
Here are the monthly pricing plans that are available:
$0/month – Perfect for testing
1 website
5,000 page views per month
1 GB CDN bandwidth per month
Places a NitroPack badge in the footer
World-class proprietary speed algorithm
Advanced caching mechanism
Complete image optimization stack
HTML, CSS and JS minification & compression
Built-in global CDN
Basic support
$21/month – 50,000 Pageviews
1 website
50,000 page views per month
25 GB CDN bandwidth monthly included
World-class proprietary speed algorithm
Automatic Google PageSpeed optimization
Advanced caching mechanism
Complete image optimization stack
HTML, CSS and JS minification & compression
Built-in global CDN
Priority support
$51/month – 200,000 Pageviews
1 website
200,000 page views per month
100 GB CDN bandwidth included monthly
World-class proprietary speed algorithm
Automatic Google PageSpeed optimization
Advanced caching mechanism
Complete image optimization stack
HTML, CSS and JS minification & compression
Built-in global CDN
Priority support
So, there are many options you can choose from depending on the support your website needs. I would only use this on sites where it makes sense financially. And this site is one of them for me. So, I'll be continuing to use it, especially for this website.
My Final Thoughts
So, what are my final thoughts and opinions on this plugin for WordPress? I am impressed by this NitroPack plugin. I had my doubts, this website I tested out is an ongoing challenge for me. However, this plugin did not disappoint and increased my speed immensely. I would highly recommend this plugin for WordPress. I was not expecting my numbers to improve as much as they did. If you want to try it out for yourself, feel free to use my affiliate link to speed up your WordPress website.