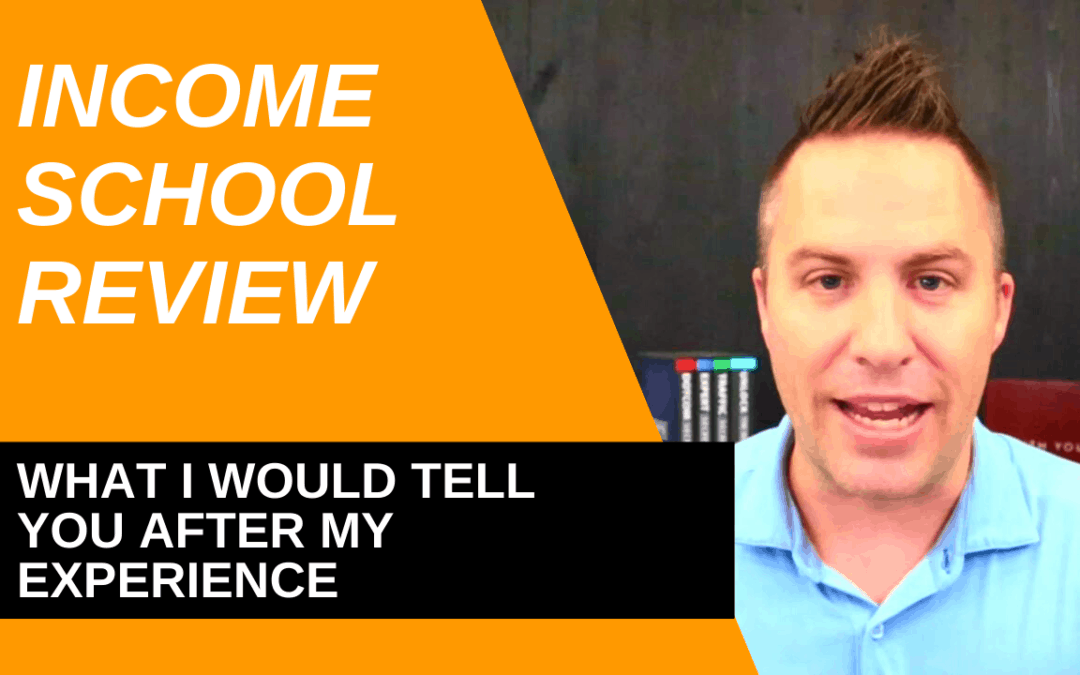 Are you an online business owner or someone who is just now looking to start a profitable online business? If you just answered "yes," then Income School is a resource that you should check out!
Although we have found Income School to be valuable for our online ventures, we want you to decide what is best for your online business. The goal is to explain what it is and what they offer so you can make an informed decision about whether they have the tools and resources you need to help make your business successful! Continue reading to find my full Income School review.
What Is Income School?
The internet marketing company, Income School, was created by two high school friends, Jim Harmer and Ricky Kesler. Their website tells the story that it took years, slowly building Income School before Jim and Ricky really saw any growth. What sparked a change was these two men bringing their families together for weekly dinners, and they would sneak away to work on the site for an hour at a time.
That consistency and dedication are how they have built the site into what it is now—increased income, 166 thousand YouTube subscribers, hundreds of Project 24 members.
But you may be wondering, "What exactly is Income School?"
Essentially the premise of Income School is to teach people how to use passive income websites—think blogs, niche websites (a site that focuses on a more specific topic or theme common to a smaller group of people), and YouTube channels—to create, grow, and market an online business. In fact, on their site they put it like this: "We help people provide well for their families by creating online businesses."
What Income School Offers
Most, if not all, of the resources Income School offers, are really valuable for beginners especially. What they teach is practical, step-by-step instructions on how to get an online business started without having to know all of the ins and outs of the advanced, complex technicalities,
The thing Income School is probably best known for is their YouTube channel, which is how we were introduced to them. Their channel covers topics such as internet marketing, passive income strategies, search engine optimization (SEO), WordPress tips, and monetizing websites, and the goal is to share their years of experience "to help you grow your small business." And it's true—properly applied, their knowledge, expertise, and experience give direction on how to start an online business and make it profitable. What we really appreciate about their YouTube page specifically is their approach to creating great content that targets some of the gaps that come with this type of business venture, like how to create content and how to make money from ads and affiliate income.
Income School has developed its own WordPress theme as well, called Acabado. "Acabado" is actually Portuguese for "finished," because Income School wants to highlight how quickly you can redesign your website with speed and clean design. Some other features of the Acabado theme include built-in SEO so you don't have to mess with plugins; a mobile-first mindset in building the theme since 65 percent of your audience will likely visit on their mobile device; and homepage customization so you can strategically place posts, categories, or your social media accounts.
The Cost
There are two payment plans to get Acabado: either $67 per year, billed annually, or a one-time purchase of $179 per century. Both plans allow you to use the theme on every site you personally own. But the yearly license only allows updates and compatibility for a year, while the 100-year license includes all the future updates for—you guessed it—100 years. Why this pricing? Income School says, "We wanted to offer a very low price point for getting started, and a VERY reasonable lifetime license for those ready to commit." Sounds pretty reasonable to us!
They also offer a membership called Project 24, named after many peoples' goal of creating a successful business in 24 months. Project 24 offers courses, communities, webinars, and other tools to help you start your own blog site or YouTube channel. But it's not just one course or video here and there—it's a library that is regularly (read: constantly) being updated and added to. There are resources for every level of the business owner: beginner, advanced, and those who have tried and failed.
Project 24 also offers a community site where you can create posts, comment on others' posts, and ask questions. Because there are members with varying levels of knowledge and success, you have the opportunity to interact with and learn from them. We have found this community site to be one of the most valuable things the Project 24 membership offers.
There is also a members-only podcast, where Jim and Ricky talk about the newest marketing, SEO, and monetization strategies. The knowledge within these episodes is unmatched and if you are serious about growing your online business, you have to listen to this podcast. Honestly, I really have seen success with my niche sites through what I've learned with my membership. If you want to join Project 24 today and (hopefully!) have the same experience, use my affiliate link.
Their Unique Approach
Aside from the actual resources, you will find through Income School, you will find they have a unique approach to a couple of different things.
The first is they do not do any link building, nor do they encourage it. If you don't know what that means, basically link building is the process of linking websites back to your site. Building links can help drive traffic to your site, signaling to search engines that it is a credible, quality site. This affects where your site ranks, and it is usually the sites with more backlinks that rank higher.
However, rather than build links, Income School encourages those of you who are creating passive income or niche sites to create content. They are all about creating unique, informative, well-researched content that is better than what is already out there. So, instead of focusing on guest posts, paying for links, and link exchanges to move your site up in the search engine rankings, Income School's approach is simply to create great content and to create a lot of it.
Another unique approach they have is keyword research. In fact, Income School doesn't even call it that, instead, calling it "search analysis." To target what people are searching for, Income School does not depend on keyword research tools, since those are often inaccurate, but on the auto-suggest feature, Google uses and common sense.
The first thing they teach you is to create content—blogs, YouTube videos, etc.— about what people are actually searching for. Sometimes people write about their thoughts or opinions on a topic, but it's unlikely that your specific view is what someone will search in the Google search bar, meaning they won't find your post. On the other hand, if you create content geared toward a beginner in any realm, they won't find it either. They don't know to search for something they don't know about.
So, what Income School teaches is to utilize Google's auto-suggest feature to see what populates when you search for what you are writing or creating videos about. That way you can create the kind of content you know that users will find. Pair that with common sense, writing (or videoing) within the niches you are passionate and knowledgeable about, you can better understand your audience and what content they want.
The Exception
In this Income School review, we have discussed who this program is for. But, who is Income School not for?
For the most part, Income School probably is not for you if you think you are an expert in some of the more advanced tools and techniques of online businesses. They do offer resources for more advanced online business owners, especially within the Project 24 membership, like courses about affiliate income, SEO, monetization, and the like. The podcast and community groups also facilitate conversations and the exchange of ideas.
However, if you are advanced way beyond even what Income School can offer, or you are looking to compete with even bigger names (e.g., you are in the health niche and you want to compete with Men's Health), then it may not be for you. You will likely need what they teach plus more, and there are some limits to what they currently have for users.
Final Thoughts for Income School Review
Whether you are new to the internet marketing game, you've been at it a few years, or just enjoy journeying and learning from other people, we highly recommend that you check out Income School!
Everything they offer, from their original courses to the tools they love to the community groups, is extremely valuable, and you won't find it all in one place anywhere else. Use my affiliate link to check out Income School and see what they are about for yourself (and your blog, YouTube channel, or niche site) today!