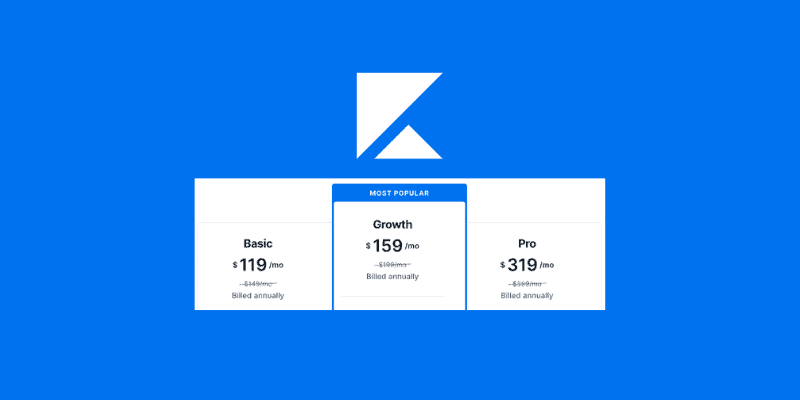 If you are looking to use Kajabi as the platform from which you run your online business—creating and selling courses, membership sites, coaching programs, and other digital products, you may be asking, "Is Kajabi pricing worth it?"
That's the question we want to help you answer. If you're not sure what Kajabi is, check out our previous videos to learn more and first determine if it's even the right fit for your business.
Kajabi offers three different pricing plans that you'll need to consider:
The Basic Plan
The Growth Plan
The Pro Plan
We'll break down monthly and annual billing, what is included in each of these plans, and help you decide if the value of Kajabi is worth the price for your business.
First Things First
You can check out the latest pricing on Kajabi's site.
Kajabi offers users the choice between monthly and annual billing. You can see the difference between paying month-to-month and the discount you receive when opting to pay it all upfront. Depending on the plan you choose, you can save 20 percent—that's anywhere from $360 to $960 a year. Those savings are pretty significant!
Kajabi also breaks down what is included in each of the plans.
Products are anything from courses to digital resources, memberships to teaching tools. Basically, a product is anything that someone has to subscribe to or register for—whether you charge for the product or not.
Pipelines are similar to sales funnels. It's the way you convert potential prospects to paying customers. Kajabi features pre-built landing pages, emails, and automation that you can use to market and grow your business.
Contacts are all your people: anyone who has subscribed, unsubscribed or purchased something from you. It also can include potential customers, as long as you have their contact information.
Members fall under the "Contact" category. A member is someone who has purchased or been granted an offer on your site. They have active access to one or more of your products.
Websites are a set of pages under one single domain name. In Kajabi, the Basic plan will require mykajabi.com in your domain name, while the Growth and Pro plans offer the ability to remove Kajabi branding.
Administrators have access to every Kajabi site associated with your account. They can view and manage notifications, settings, and users, and create pages and products—anything to help maintain your site.
Landing pages—or single web pages used to market products, link to email campaigns, collect leads, and more—and marketing emails are not limited to any of the Kajabi plans.
Essentially, you'll want to make sure that the plan you choose matches what you hope to do through Kajabi, and can handle the number of contacts and members you have or expect.
Now that we've explained what each of these things means, let's look at the specifics.
Basic
This is the least expensive plan that Kajabi offers. Month-to-month you will pay $149, or annually it breaks down to $119 per month.
With this plan you get:
3 Products
3 Pipelines
10,000 Contacts
1,000 Active Members
1 Website
1 Administrator
For online entrepreneurs who are just starting out, this may be the plan you want to start with. But it's still fairly expensive. How can you make it worth it?
To be quite frank, Kajabi might be a big jump for new(er) businesses, especially if you currently just have the basics: a web domain, web hosting (without premium plugins), free email builders. But one way the price of Kajabi might be worth it is if you're planning to offer more than that and create things like courses, memberships, or coaching programs. Then we would suggest use Kajabi for everything you need, rather than paying to use multiple online platforms.
What the Basic plan offers is usually enough for a new business, and it may be at least a year before you need to upgrade. Simply put, you'll have everything you need to build your website, create and sell your products, market your business, and provide an engaging user experience.
Growth
The Growth plan is a considerable jump from the Basic plan.
Here is what's included:
15 Products
15 Pipelines
25,000 Contacts
10,000 Active Members
1 Website
10 Admin Users
It says it all in the name: you'll probably want to choose the Growth plan if your business is growing and you need more products, pipelines, and members. But there's more than Kajabi offers with this plan, including 24/7 chat support, the ability to remove Kajabi branding from your website, advanced automation, and the Affiliate Program.
The first three are fairly self-explanatory. The Affiliate Program gives you the ability to recruit others to sell your products, monitor their performance, and manage commission payments. If you can and will utilize this feature, it may be worth it to upgrade to the Growth Plan.
Pro
Although most expensive plan, you get significantly more with Pro:
100 Products
100 Pipelines
100,000 Contacts
20,000 Active Members
3 Websites
25 Admin Users
For most business owners, the Growth plan may be enough for you depending on what your goals are. However, the Pro plan offers one additional thing that neither of the other plans does, and that is the ability to edit code.
Editing code means you can make and control customized changes to your website, landing, and product page themes. If you are unfamiliar with editing code, Kajabi recommends hiring a professional to help.
Is There a Free Plan?
Kajabi offers a 14-day free trial of any of their plans. You will have access to every feature, but a credit card is required and payments begin as soon as the trial is over unless you cancel, select a lower-priced plan, or choose annual billing.
So, Is Kajabi Pricing Worth It?
The simple answer? It depends.
Kajabi is a one-stop-shop for online businesses and a pretty powerful one at that. That alone might convince a user that it's worth it. But for businesses just starting out, the price tag might make you pause.
It's important to remember that paying for Kajabi is an investment into your business. Yes, you may spend quite a bit on fees on the front end (depending on which plan you choose), but as with any business, there is the expectation that you will generate a profit.
Choosing Kajabi will be worth it if you don't currently have (or are unhappy with) a website or email marketing tools, and you want to create and sell digital products like courses, memberships, and coaching programs.
Kajabi will also bring value to your business if you're currently using multiple online platforms— ConvertKit for email marketing, WordPress to host websites, ClickFunnels to create sales funnels—and you want to streamline how you manage your business. Kajabi can replace all of those and more: course builders, blogs and podcasts, automation software, plugins. Switch everything to Kajabi so you're paying only one fee and all aspects of your online business are in one platform.
And when is Kajabi not worth it? It's not worth it if you can't afford it.
For new or small businesses, if you're not generating enough profit you may need to use the "patchwork" method with utilizing free or low-cost plans on other platforms. Then as you grow and begin earning more, you can revisit Kajabi and their various plans in the future and make the switch to that platform.
So, do you think Kajabi pricing is worth it for you?
Kajabi offers a variety of website and course builders, sales funnel creators, marketing tools, and software. Compared to other online course platforms, Kajabi is stronger and has more capabilities. If that's what you're looking for and you're ready to invest in the future of your online business, then Kajabi will be worth it!
If you're ready to get started, use our affiliate link to sign up for Kajabi. You'll also receive free coaching from us if you use this link because we want to help you get the most out of Kajabi for your business!