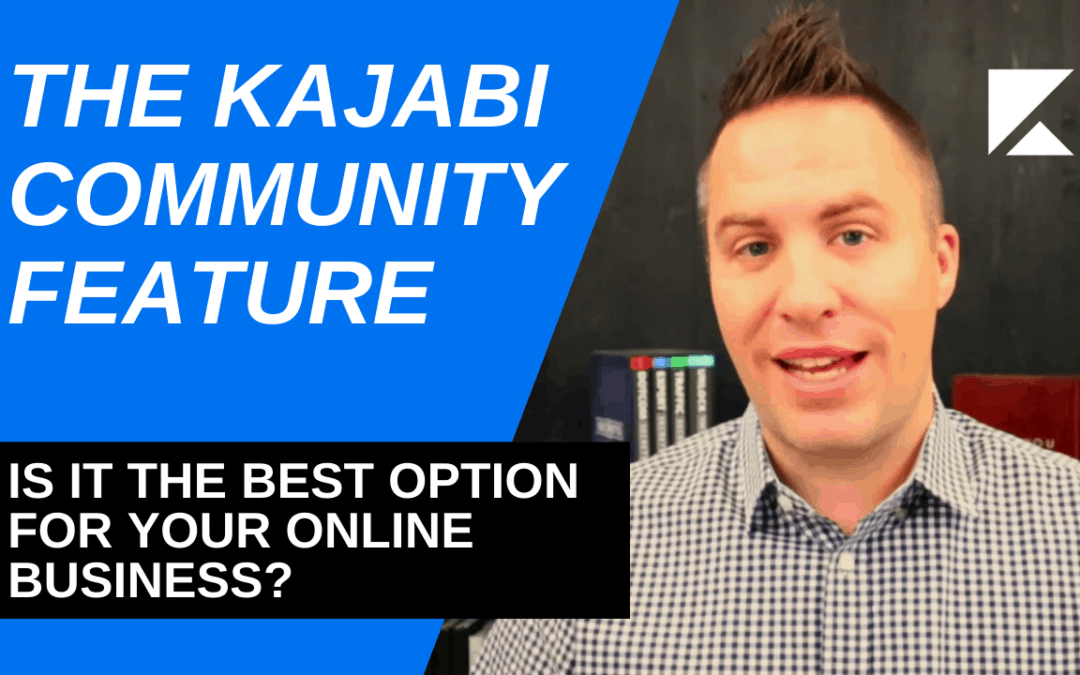 One of the lesser-used functions of Kajabi has to be the Kajabi Community feature. Many Kajabi users don't utilize this feature, but why?
The long story short is that the Kajabi Community just isn't the most effective feature. It definitely has its benefits, if utilized correctly. However, the biggest dilemma is that there are other platforms out there that are just doing it better right now.
All of that is not to say, though, that it's not still worth using Kajabi Community. Here, we'll discuss what it is, how to use it, and we'll give our opinion on when it's worth using.
What is the Kajabi Community?
First things first, what is the Kajabi Community? In short, it's a feature that the Kajabi platform has made available to its users. It's essentially a place where course members or coaching members are able to communicate. In the Kajabi Community feature, users can chat, ask questions, share information, and discuss course content.
It's honestly really similar to a Facebook group, just with fewer features. That's probably why a lot of Kajabi users don't actually use this feature at all. Most tend to use Facebook groups or something similar like Tribe or Circle. These three tend to be the most popular alternatives to Kajabi Community, but we'll get into that later.
How does a Kajabi Community work?
Before deciding if Kajabi Community is worth using for your business or not, it's helpful to know what it consists of. You'll find the Kajabi Community feature in the products tab because Kajabi does consider it a digital product. That doesn't necessarily mean that your clients have to pay extra for it, though. You have the option, as with any product, to make it either paid or free. If you're looking to link it with an online course, you can offer it free to those members.
When you click on whichever community you're wanting to participate in, you'll be able to see all of the posts from members. Members are able to post and reply to each other within the community. Since it's tied in with certain products, it's an easy way to incorporate extra information for your products. For example, if you're wanting to welcome course members or add more instructions for a course, Kajabi Community would be a place where you could do that.
The Kajabi Community feature is very simple and scaled back. There aren't a lot of features available to users. This is probably why many Kajabi users turn elsewhere to foster a community among their members.
As with everything else in Kajabi, creating a Kajabi Community is pretty simple. When you open the products tab in the dashboard, you'll want to select the New Product button. You can find this, as of now, on the right side of the dashboard. You'll simply select "Community" out of the product templates offered there and then click Save.
After you've created the new Community, you'll be able to customize it. You can choose the title, fill out a description, and choose a thumbnail. It's a nice feature that you're able to keep branding consistent with the course or coaching group that the community is for, as opposed to something like Facebook groups.
Members of the community are able to search for certain topics by searching words or phrases within the community itself. They can also like and follow posts, in addition to commenting and replying to the posts. Members can link things in the comments or post photos if needed. Posts are editable and deletable, as well.
Is a Kajabi Community worth it?
The short answer here is yes and no. Like we mentioned before, there aren't many features available to users with Kajabi Community. It's certainly limited. There are other disadvantages to it, as well.
It can be really difficult to create a solid community with 30 people, or however many members you have in a course. It requires serious intentionality and investment that not all business owners have the ability to give right away. For us, at least, we are more focused on creating good content for the courses than we are fostering a good community in Kajabi Community. For others, that may not be as much of an issue.
We've found that it's easier with something like Facebook groups, for example. When there are 1000 members instead of 30, a community just occurs somewhat naturally. There's not a lot of fostering required, which can alleviate pressure from business owners. For us, then, we've found that Facebook groups tend to be the best. This may also be partly because we've only recently switched over to Kajabi and had Facebook groups established prior.
However, that's not to say that it isn't worth at least incorporating Kajabi Community. There are certainly ways to use it effectively, while still incorporating something like Facebook groups, Tribe, or Circle. A nice bonus to Kajabi Community is that it is private, especially when comparing it to something like a Facebook group, which is significantly less so.
Although Kajabi is probably the lowest in quality out of all community-related features, it does have one major advantage – it's convenient. Users are already in Kajabi, so it doesn't take any extra effort for them to access the Community feature. Even if people are mostly using it to ask questions about the course, it can still prove useful. Our recommendation is to link the Kajabi Community to whatever other platform you choose to use, like Facebook, so that you can still utilize it without relying on it completely. It's a great add-on, but not a viable option as the sole source of communication.
It is worth noting, however, that the Kajabi Community feature is something that not all learning management software offers its users. Even if it is relatively basic, it still gives Kajabi a one-up against competitors.
Conclusion
Once again, the answer to the question of whether or not Kajabi Communities are worth isn't simplistic. It wouldn't necessarily be a selling point for us when it comes to Kajabi, but it's a nice feature to have incorporated into the software. If you're looking for something more private or simple, it may be a great option for you.
We'd recommend you at least looking into it if you're a user of Kajabi, even if you use something else like Facebook groups, Circle, or Tribe. Get creative with it and try to find ways to incorporate it as a no-hassle benefit to your clients. However, be aware that you will most likely end up needing to use another platform in addition to the Kajabi Community feature.
If you're not a Kajabi user yet but you want to try it out, you can use our affiliate link to join. When you use the link, we give you access to free coaching. While we aren't the biggest fans of the Community feature, we're happy to share what we've learned in the process of switching over to Kajabi and trying to use it.